The plot of Jacinta Halloran's fourth novel Resistance is straightforward. The Agostino family have stolen a car and driven into the desert. As part of their court-mandated sentence they must attend sessions with family therapist Nina.
The reader is privy to these sessions, as well as sessions between Nina and her supervising therapist, Erin. With her, Nina discusses the Agostino family, as well as her own personal history.
---
Review: Resistance – Jacinta Halloran (Text Publishing)
---
But the novel goes beyond its simple plot ingredients, to offer a broader view of what it means to be Australian – and the importance of recognising a nation's history as your own.
A narrative bowerbird
Resistance is a collage of stories presented as a novel, narrated by Nina. The through-storyline intrigues – we want to know what has compelled the Agostinos – but there are also hints of the short-story cycle in the book's structure. Nina recounts stories from the Agostinos, from therapist Erin, from her colleague Melita, and from minor characters such as her ride-share driver, her doctor and her mother.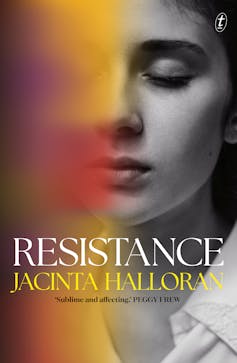 Nina seems a narrative bowerbird, collecting stories: the novel is a presentation of her collection. Halloran's publisher has compared her novel to Rachel Cusk's Outline trilogy and the way its stories filter through Nina's consciousness does resonate with that comparison – as though character is less the point than the stories Nina accesses for us.
Nina narrates almost all of these stories. As readers, we are forced to trust her point of view and this creates an intentional (I suspect) discomfort. How can we believe Nina when she herself questions these interpretations and wrestles with trauma of her own, after the recent death of her brother?
---


Read more:
Secrecy, psychosis and difficult change: these lived experiences of mental illness will inspire a kaleidoscope of emotions


---
Nina's tone is often clinical and reserved. Her voice can be overbearing and there is little direct dialogue to support her interpretations. Dialogue may deliver the reader into the stories, but they are then left to Nina's discretion; sometimes the stories have the feel of monologues.
If there is a writer's dichotomy of "showing" and "telling", Nina's accounts weigh heavily on the side of "telling". The reader is not allowed to witness conversations, but is forced to trust the narrator.
The reader's dynamic with Nina mirrors that of the Agostinos, who have been forced into a similar contract of trust. They are an intriguing family: father Claude, mother Lisa, daughter Poppy (12 years old) and son Theo (seven).
Claude and Lisa come across as old-fashioned, solid parents who offer engaged and kind parenting to their children. Poppy and Theo do not seem to be in danger, and yet the family openly keeps secrets from their therapist – so both the reader and Nina must try to unravel the puzzles and silences of this family.
---


Read more:
'We are only passing through': stories about memory, mortality and the effort of being alive


---
Acts of remembering
The way Halloran uses Nina's voice to control stories throughout the novel also acts as metaphor, reminding me of the historian trying to understand history. We cannot choose who tells the stories we use to understand the past.
Often, we must look for the story of what "really" happened in silences and unintentional clues. The historian must trust historical accounts that come to them through a lens they did not choose. In the same way, Halloran's readers must trust Nina.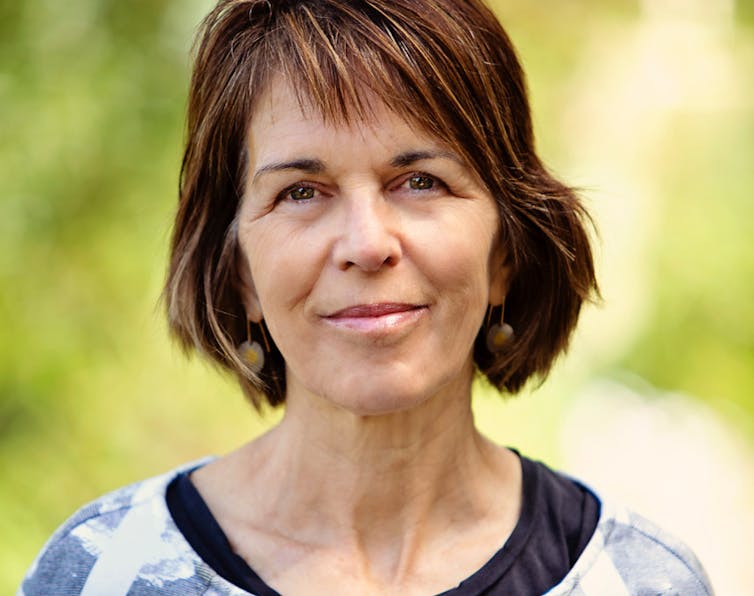 One story, however, is clearly presented to the reader without interpretation. Twelve-year-old Poppy writes about going into the desert and the reader is given her verbatim account. It is important that Poppy's narrative operates independently in this way – she represents future generations who will be impacted by the psychic work her parents do or don't do. Her writing opens up questions of interiority, time and remembering. These questions drive the whole novel – whether personally, politically or historically.
Nina's boss Melita often provides points of reflection in relation to these themes. As Nina recounts: "when we told stories of our childhood, Melita said, we were always speaking in metaphors". Melita considers the act of remembering and the role of time.
Earlier in the novel, she says: "What if, instead of having anxiety or depression, we just had a troubled relationship with time?" She points to those who look backwards, believing "their best days had passed" and those who look to the future, "standing on shaky ground of expectation, planning for every contingency".
With pilates, Melita says, the body can relieve us of these two states by anchoring us in the present. It's telling that Melita chooses a physical activity to achieve mindfulness, as the body is also a site for trauma – and reckoning with trauma is a prominent theme in the novel. Later, Melita suggests it would be easier if
our clients wore their psychological and spiritual wounds on their body […] an old, proud scar which communicated that this person had done battle.
The trauma explored in this book is also collective, the trauma of a nation. As Lisa Agostino says:
We were all of us living every day with the repressed shame of genocide … and nothing we did would wipe that away, so long as we continued to live in this country.
Throughout these stories and reckonings, the novel interrogates the usefulness of psychology in the face of past trauma. We see this as Nina narrates her own struggles, as well as in Erin's insights during their sessions. Both therapists question their roles, their interventions and their interpretations.
---


Read more:
'How are they losing their children like this?' Fiona McFarlane's novel interrogates the stain of white presence on Aboriginal land


---
Nina's mother says that it's hard to keep trusting one's instincts in the face of a "so-called expert on the human mind". In the story world, this can read as a dig at Nina, or the larger profession. But it feels like Halloran may also be playing devil's advocate with the novel itself.
Resistance is a poignant, thoughtful novel with layered meanings, but it's also an engaging and quick read. I found myself wanting to return to the world Halloran has created, and wondering what was ahead for these multi-faceted characters. Halloran offers an intriguing set-up that pays off in understated ways. Story is a vehicle for deeper reckoning here as the characters face their own – and others' – resistance.
source By https://theconversation.com/a-therapist-reckons-with-her-own-trauma-in-the-shadow-of-australias-collective-shame-197425