There's been outrage online over a bride-to-be forced to pay up $489 to alter her wedding dress, or sign a waiver pledging to lose weight.
Her friend shared the situation to Mumsnet, under username MotherofGoats, as she revealed the wife-to-be ordered "a very expensive wedding dress from a well-known designer."
The post said: "She went to be measured this week and was told that because she was "in between" sizes she would either have to pay £450 ($489) extra to have it made to her exact size or sign a waiver agreeing to lose around 14 pounds before her final fitting, which is four months before her actual wedding next June.
"Is this normal? I think it's horrifying and toxic!"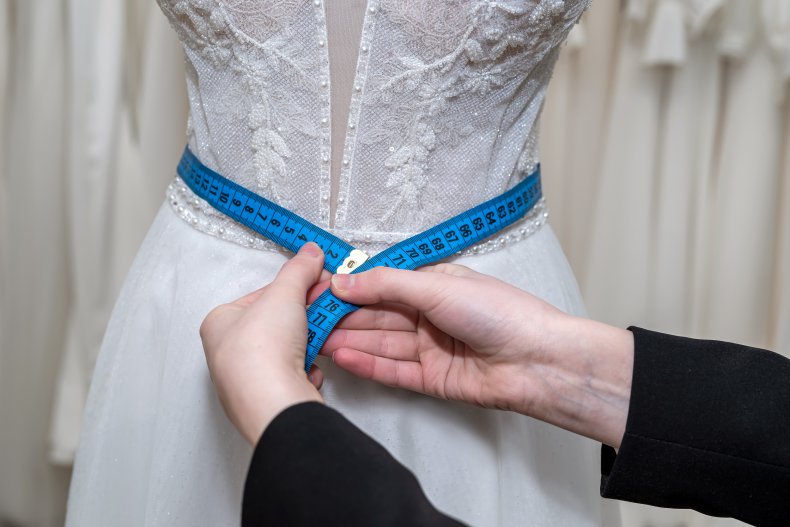 According to website Brides.com, the average wedding dresses generally range from $500 to $4,000, with the national average $1,800.
Gabriella Rello Duffy, Brides editorial director, told Newsweek: "It's quite normal to have some sort of formal contract or agreement when you're purchasing a wedding dress, because at the time of purchase, you're not actually seeing the final product, and you might not see the dress for another six months.
"It's such an emotional purchase, and in some ways, it's an imagined purchase-each bride is imagining what they're going to look like, and has a certain picture in her head, and has incredible expectations for the final result."
Duffy shared more details about the measurement process, adding: "Brides work with bridal salons to record their precise measurements for the perfect fit, and the salon has made a recommendation on what size of the dress to order [for] those measurements.
"Most salons will have you order a bigger size and alter it down, so when finalizing the purchase, all of these details are noted and factored into a final agreement so all parties are clear on the order.
"So, if the salon recommends that you order one size for ease of alterations, and you decide to order something smaller, it makes sense that the salon would have you sign a waiver for transparency, and to make sure that you will accept the dress at that smaller size."
The post, which can be read here, amassed more than 170 responses since being shared on Tuesday.
As numerous people weighed in, her friend shared more details in the comments, adding: "She was expecting to have to pay £200 ($217) for alterations but the shop are saying because she's in between sizes she needs to pay £450 ($489) for an inbetween size.
"Surely the point about going to a bridal designer is that your dress is made to measure? Or am I just old-fashioned…."
Some people shed light on why the decision may have been made, as SudocremOnEverything wrote: "They've clearly been burned by too many brides who wouldn't pay the £450 ($489) to get the dress in a size that would fit, said they'd diet and then caused a big fuss when they didn't. She could pay the extra and order the bigger size instead."
But people sympathized with the shop's decision, and pointed out alternatives.
BMW6 stated: "The waiver is so she pays for the dress even if it's too small cos she didn't lose the extra weight. Sounds perfectly reasonable to me."
Imtoowettowoo wrote: "A friend of mine owned a bridal shop. She had real problems with brides-to-be who ordered a certain size dress and then got pregnant, before the wedding, so it didn't fit. Some refused to pay to have it altered, so it was a real pain."
WhatNoRaisins commented: "I'm guessing they've had problems with brides not being realistic about how much weight they are going to be losing. It would make more sense to buy the size up and take it elsewhere to be tailored surely?"
Quincythequince thought: "I think it's fair enough. What are they supposed to do?"
Newsweek was not able to verify the details of the case.
Has a wedding come between your relationship with a loved one? Let us know via [email protected]. We can ask experts for advice, and your story could be featured on Newsweek.
source By https://www.newsweek.com/bridal-shop-forcing-woman-sign-waiver-lose-weight-1747522