Kim Kardashian is facing backlash for revealing she lost 16 lbs in three weeks in order to fit into Marilyn Monroe's "Happy Birthday, Mr. President" dress for the Met Gala.
The reality TV star, 41, truly stole the show at the 2022 Met Gala when she walked the red carpet in a literal piece of history.
The iconic gown was famously worn by Monroe in 1962, the same year she died, when she serenaded the then-president.
Created from a sketch by Bob Mackie for costume designer Jean Louis, the nude-colored crystal-embellished dress was won at auction in 2016 by the Ripley's Believe It or Not museum who loaned it to Kardashian for the Met Gala.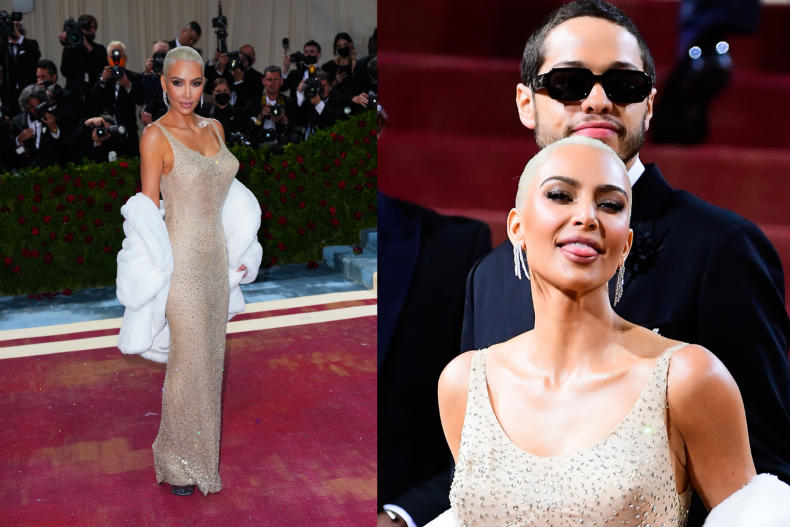 The dress had been stored in a temperature-controlled vault and went for almost $5 million at auction.
One catch to Kardashian being loaned such a valuable garment, however, is that no alterations could be made.
The SKIMS founder revealed that she tried on a replica months ago which fit but when she tried the real one on, it didn't fit.
"I always thought she was extremely curvy. I imagined I might be smaller in some places where she was bigger and bigger in places where she was smaller. So when it didn't fit me I wanted to cry because it can't be altered at all," Kardashian told Vogue.
"It was this or nothing," she told the magazine and explained that she embarked on a strict diet and workout regime to slim down for the dress.
"I would wear a sauna suit twice a day, run on the treadmill, completely cut out all sugar and all carbs, and just eat the cleanest veggies and protein," she said. "I didn't starve myself, but I was so strict."
Kardashian revealed that this plan worked and that the dress ended up fitting her like a glove.
"I wanted to cry tears of joy when it went up," she said.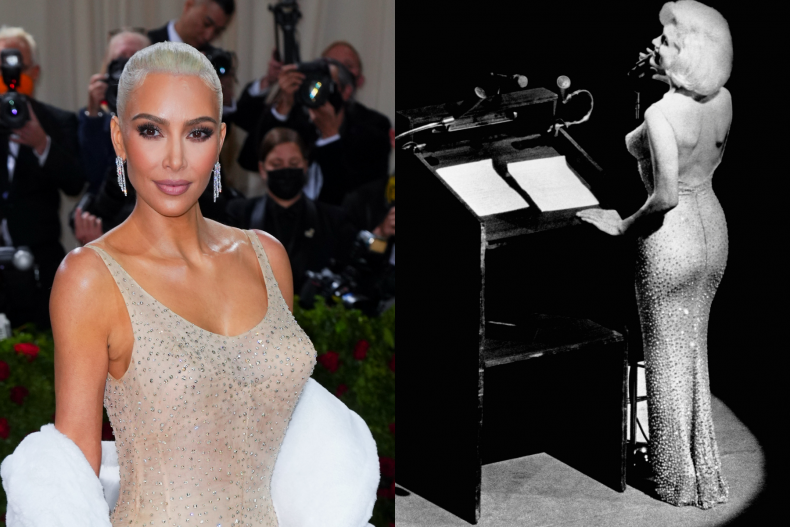 On the red carpet, Kardashian told LaLa Anthony, who hosted Vogue's Livestream, more about her diet and revealed that she needed "three weeks" to lose weight.
"I had this idea to put it on and to try it on, and they came with armed guards and gloves. I tried it on and it didn't fit me, and so I looked at them and said give me like three weeks, and I had to lose 16 lbs, down today, to be able to fit this," she said.
"It was such a challenge, it was like a role, I was determined to fit it."
While magazines in the 1990s and noughties promoted weight loss and diets constantly, in recent years, such discourse is frowned upon and the body positivity movement has paved the way for a greater acceptance of different body types, making some find Kardashian's revelation dated and unhealthy.
So it is no surprise that her comments are being widely criticized on Twitter where social media users are blasting the star for promoting unhealthy weight loss methods and unrealistic beauty standards.
"I can't believe Kim Kardashian just openly admitted that she lost 16 pounds in 3 weeks to fit into a dress for the #MetGala. This is so damaging and problematic, in ways I can't even begin to unpack," reads one tweet.
While another added: "Kim Kardashian losing 16 pounds in 3 weeks to wear that old ass dress? what a waste lmao."
"Kim saying she lost 16 pounds in 3 weeks just to wear a dress and they're acting like this is normal," reads another tweet.
While another added: "Kim telling everyone she lost 16 pounds in 3 weeks to fit into Marilyn's dress is so unhinged and dangerous to promote to any young girls watching."
Newsweek has contacted Kardashian's representatives for comment.
Kardashian is also facing further backlash online over the dress with some critics labeling her wearing Monroe's dress "offensive."
"Calling Kim K the modern-day Marilyn Monroe is offensive and makes no sense," wrote one critic on Twitter. "Marilyn actually came from nothing and became a movie legend and icon in Hollywood. Kim K comes from a wealthy family. There is no comparison."

source By https://www.newsweek.com/kim-kardashian-slammed-losing-16-lbs-3-weeks-met-gala-1702974