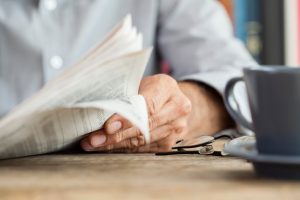 Media portrayals of mass shooters often strengthen stereotypes about race, religion, and mental health, according to a study accepted for publication in the journal Advances in Journalism and Communication. The study found reporters used different words to describe the same crimes, depending on how the shooter was described. Shooters dubbed "Muslim," for example, were more likely to be called "terrorists."
Does Perception of Race Affect Reporting on Mass Shooting?
For the study, Cynthia Frisby, an associate professor of strategic communication at the University of Missouri School of Journalism, reviewed 170 reports of public shootings published in five major national papers between 2008 and 2016. The reports included stories about shootings by police officers, criminal shooters, and people acting in self-defense.
Frisby coded the studies according to the identity the reporter assigned to the shooter. Some shooters were described in racial/ethnic terms as black. Others were dubbed Muslim. Because Islam is a religion, not an ethnicity, it is unclear what criteria reporters used to assign the designation of "Muslim" to shooters.
The most prominent words and phrases used to describe shooters were "terrorist," "hero," "mentally ill," and "thug." Reporters' perception and description of race/ethnicity and religion played a key role in how shooters were portrayed.
Shooters deemed "Muslim" were called terrorists in 37% of stories that used the term, compared to 34% for black shooters and 17% for white shooters. Black shooters were more likely to be dubbed thugs, with 53% of stories that used the term referring to black shooters. Hispanic shooters were called thugs in 28% of cases, compared to 16% of reports describing white shooters. Public shooters were called heroes in 32 reports. Seventy-five percent of shooters in these reports were white, 16% were black, and 9% were Hispanic.
When white shooters were involved, reporters were less likely to use pejorative terms and more likely to only include objective facts to describe the shooting. In reports involving non-white shooters, reporters included more subjective information that speculated about the aggravating factors that might have played a role in the cause of the shooting.
Linking Mental Health to Violence
Forty-six stories cited a mental health condition as a reason for the shooting. Eighty percent of these stories involved white shooters, and 16% involved black shooters. Terrorism was far more likely than mental health to be mentioned in reports involving "Muslim" shooters, who were dubbed "mentally ill" in 4% of reports that used the term.
The study points to the role of racial stereotypes and mental health stigma in media reports. These reports may further perpetuate stereotypes. For example, though mental health is often blamed for mass shootings, there is little evidence that suggests a link between mental health diagnoses and violence. Previous research has found only 3-5% of crimes involve people with a mental health diagnosis, and people with a diagnosis are less likely than people without one to commit gun violence.
Frisby says this research should encourage journalists to confront their own biases, so their reports do not strengthen stereotypes about crime, race, and mental health.
References:
Frisby, C. M. (2017, November). Misrepresentations of lone shooters: The disparate treatment of Muslim, African American, Hispanic, Asian, and White perpetrators in the U.S. news media. Advances in Journalism and Communication, 5(2).
Media portrayal of public shooters can perpetuate stereotypes. (2017, April 26). Retrieved from https://www.sciencedaily.com/releases/2017/04/170426141722.htm
Metzl, J. M., & Macleish, K. T. (2015). Mental illness, mass shootings, and the politics of American firearms. American Journal of Public Health, 105(2), 240-249. doi:10.2105/ajph.2014.302242
© Copyright 2017 GoodTherapy.org. All rights reserved.
The preceding article was solely written by the author named above. Any views and opinions expressed are not necessarily shared by GoodTherapy.org. Questions or concerns about the preceding article can be directed to the author or posted as a comment below.

source By https://www.goodtherapy.org/blog/media-coverage-of-mass-shooters-often-perpetuates-stereotypes-0504171