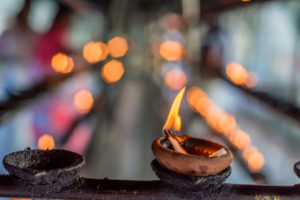 In the United States, religious participation is linked to a lower risk of suicide, but that correlation does not exist everywhere, according to a study published in the Journal of Health and Social Behavior. Suicide ranks among the top 20 causes of death worldwide.
Other studies have reached similar conclusions about the role of religious participation in the suicide rate in the United States. A 2016 study, for instance, found women who regularly attended religious services had a significant reduction in the risk of suicide.
Religion and Suicide: Different Relationships in Different Nations
The study used data from 1981-2007 from the World Health Organization Mortality Database and World Values Survey. The data included 42 nations in seven geographic regions. The researchers measured religious participation by the percentage of people in each nation who attended some type of religious service a minimum of once per month.
In some areas of the world, religious participation was linked with a lower risk of suicide. Those regions include English-speaking countries, Eastern Europe, Northern Europe, and Latin America. In East Asia, Western Europe, and Southern Europe, religious participation was linked with a heightened risk of suicide.
The study attributes these differences to both underreporting of suicide rates and the role of religion in community life. Trends toward secularization, the study suggests, weaken the role of religious communities in daily life. This can also weaken the link between religious participation and reduced suicide rates.
The study notes that people have lost confidence in religious institutions in Catholic-dominant Southern and Western Europe. In East Asia, the dominant spiritual traditions of Confucianism and Buddhism focus on individual spirituality. As a result, these spiritual traditions may offer less social support.
Could Religion Lower the Suicide Rate?
Suicide rates in the United States have risen in recent years. In 2014, suicide claimed 42,773 lives, marking a 30-year high. Researchers are increasingly interested in factors that might prevent or protect against suicide. However, suicide is the result of a complex interaction of risk factors—not one single risk or protective factor.
Though this study, as well as previous research, points to a potential protective role for religion in some regions, the research does not establish a causal connection. Though religious participation is often linked to a lower suicide rate, researchers do not know if religion directly reduces suicide or if some other factor plays a role. While one prevention tactic reduces suicide in one region, it could aggravate the risk in another. The authors urge further research into suicide prevention based on the context of regional and cultural norms and values.
References:
Does religion protect against suicide? (2017, June 28). Retrieved from https://www.eurekalert.org/pub_releases/2017-06/msu-drp062817.php
Hsieh, N. (2017). A global perspective on religious participation and suicide. Journal of Health and Social Behavior. doi:10.1177/0022146517715896
Religious service attendance associated with lower suicide risk among women. (2016, June 29). Retrieved from https://medicalxpress.com/news/2016-06-religious-suicide-women.html
© Copyright 2017 GoodTherapy.org. All rights reserved.
The preceding article was solely written by the author named above. Any views and opinions expressed are not necessarily shared by GoodTherapy.org. Questions or concerns about the preceding article can be directed to the author or posted as a comment below.

source By https://www.goodtherapy.org/blog/religion-may-reduce-increase-suicide-risk-in-different-regions-0710171