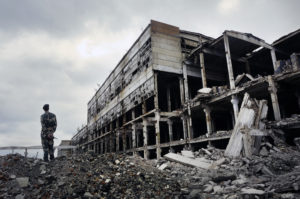 Despite fewer resources and smaller armies, small groups of radicals have often defeated larger, better organized rivals. A willingness to die for the cause in dangerous fights or attacks may play a role in the triumphs of radical organizations such as the self-named Islamic State (ISIS or ISIL). Understanding how and why some people become sufficiently radicalized to die for a cause is key to preventing radicalization and saving lives. According to new research published in the journal Nature Human Behaviour, individual personality and mental health factors play critical roles in a person's motivation and willingness to die for a cause.
What Makes a Person Willing to Die for a Cause?
The study included ethnographic fieldwork with people fighting ISIS, including members of the Kurdistan Worker's Party. Researchers also interviewed ISIS fighters who had been captured, and conducted online surveys of more than 6,000 Spanish civilians.
Based on the data, researchers constructed a framework dubbed the "devoted actor." They define a devoted actor as one who holds certain values sacred and has fused their identity with a group. These factors increase a person's willingness to sacrifice for a cause or to risk their lives fighting on behalf of other supporters of the cause.
The study identified three key components of radicalization:
A commitment to non-negotiable sacred values: People with this commitment are unwilling to compromise and will not pursue material comfort if doing so means compromising their values.
Willingness to forsake family for sacred values: Most civilians in the survey valued their families more than their core values. People who were radicalized tended to prioritize sacred values above their families.
A strong identification with an ingroup: People who are radicalized often link their sense of identity to their group membership.
Some analysts have suggested the willingness to participate in radical actions is the product of a cost-benefit calculation. In this framework, people become radicalized when they have little to lose and much to gain. The study undermines this understanding of radicalization, suggesting instead that people who are susceptible to radicalization care less about material benefits than they do about sacred values.
Peshmerga is a radicalized group fighting ISIS. In one anecdote involving a Peshmerga fighter, a soldier had to decide whether to rescue his wife from ISIS or to flee and fight. The soldier was distraught during a phone call with his wife, showing his emotional tie to her, but he decided to continue fighting. He explained to researchers that fighting to save Kurdistan was more important, and he believed God would save his wife.
This anecdote suggests radicalization does not undermine familial love, but instead causes some people to prioritize other values.
Other Perspectives on Radicalization
Previous research has focused on political and social factors that contribute to radicalization. A 2017 study found stigma and discrimination are key to understanding terrorism, meaning efforts to combat terrorism may exacerbate the problem by alienating and victimizing people at risk of becoming radicalized.
References:
Davis, N. (2017, September 4). Study of Iraq fighters reveals what makes people prepared to die for a cause. Retrieved from https://www.theguardian.com/science/2017/sep/04/study-of-iraq-fighters-reveals-what-makes-people-prepared-to-die-for-a-cause
Gomez, A., Lopez-Rodriguez, L., Sheikh, H., Ginges, J., Wilson, L., Waziri, H., . . . Atran, S. (2017). The devoted actor's will to fight and the spiritual dimension of human conflict. Nature Human Behaviour. doi:10.1038/s41562-017-0193-3
© Copyright 2017 GoodTherapy.org. All rights reserved.
The preceding article was solely written by the author named above. Any views and opinions expressed are not necessarily shared by GoodTherapy.org. Questions or concerns about the preceding article can be directed to the author or posted as a comment below.

source By https://www.goodtherapy.org/blog/role-of-personality-mental-health-factors-in-radical-human-conflict-0914171