Update | Hundreds of people went on an extreme diet with the hopes of curing their Type 2 diabetes. For some of them, it worked.
A study published in The Lancet on Tuesday chronicles a remarkable change in the health of its participants. One of the findings—that a calorie-restricted diet leads to weight loss—is hardly groundbreaking. But the effect that losing weight had on diabetes was dramatic. For nearly half of the people on the diet (86 percent of the 36 people lost more than 30 pounds), their diabetes appeared to be gone a year later.
The technical term the authors used was "remission." That term indicates that the levels of red blood cells connected to sugar molecules had fallen below a certain limit even without medication. That limit, often used as a shorthand to diagnose diabetes, is known as HbA1c. It's an indicator of average long-term blood sugar levels and may also be related to the risk of developing complications from diabetes.
"'Cure' implies absolute and lasting absence of disease—such as curing tuberculosis. Remission recognises that the person is still susceptible to diabetes and emphasises that continued attention to weight control is vital," said Dr. Roy Taylor, a researcher at Newcastle University and one of the authors of the paper. If the people in this study regain the weight, "then it is certain that the diabetes will come back."
Dr. Sona Shah, an endocrinologist at NYU Langone Health, said that doctors knew that if a person lost between 5 to 10 percent of their weight, it could help improve their HbA1c levels. "I've seen that many times in many of my patients."
"It gives more evidence and credibility to what we've been doing," she said. "If we can get them controlled by lifestyle alone, I think that's a huge goal for most patients who have diabetes."
About 10 percent of the American population has diabetes, and 84 million more adults are considered "prediabetic," according to the National Institute for Diabetes and Digestive and Kidney Diseases. Type 2 diabetes happens when a person's body doesn't produce enough insulin, which helps regulate blood sugar levels. If blood sugar levels aren't well-regulated, there can be serious or even fatal consequences.
Research has established that being overweight increases the risk of developing Type 2 diabetes. Having a family history of diabetes and not getting enough exercise can also increase a person's risk.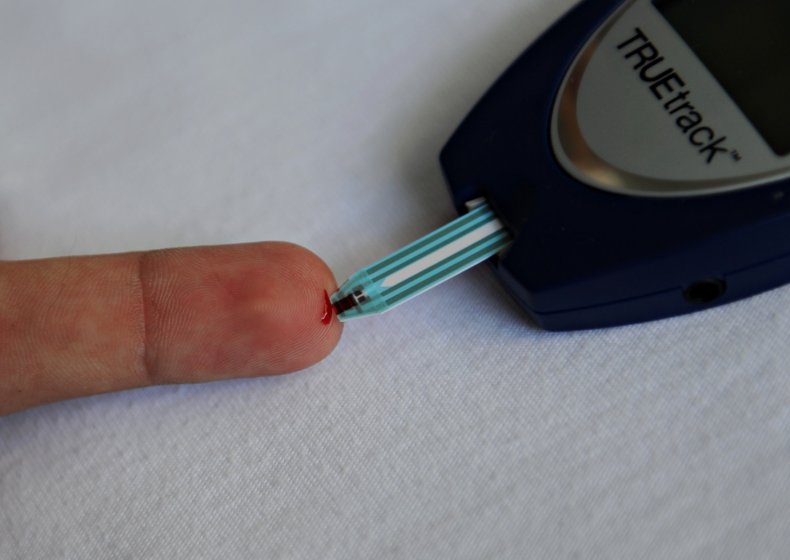 Because Type 2 diabetes is often tied to being overweight, a team of researchers in the U.K. wanted to see whether intensive weight management might help treat it. The diet used in the study was extremely low-calorie: participants were given liquid meal replacements that equaled about 825 calories per day for three to five months. After that, they slowly began to eat normal food again. For reference, the typical recommendation for a healthy woman is about 2,000 calories per day in both the U.S. and the U.K.; a man could aim for about 2,500 calories of food each day.
Notably, the liquid meal replacements used in the study were donated by the company that produced them, Cambridge Weight Plan, and the authors also had some financial support from this company. The price of the diet used in the study was not disclosed.
About 300 people participated in the study, half of whom followed the experimental diet. Compared with a group that did not get the diet, far more people lost weight and had their blood sugar levels fall below the threshold for diabetes. Though just 24 percent of the experimental group lost more than 30 pounds, some people who lost less weight from adhering to replacement meals also put their diabetes into remission. About a third of the people who lost between 10 and 20 pounds also had their HbA1c levels drop below the threshold; so did a handful of people who lost less than 10 pounds. Only six people in the control group—four percent—also went into remission. About 4 percent of people who were on the diet reported serious side effects, including stomach pain and disorders.
In theory, the authors speculated, this diet may work because it could reduce the amount of fat stored in the liver and pancreas. But the researchers also noted that the study provided participants not only with a diet plan but also access to psychological support, known as cognitive behavioral therapy, and were asked to increase their levels of physical activity.
And this diet may not be all that useful for the majority of people with diabetes, Shah said. "Usually I tell my patients to restrict their calories to 500 calories less than whatever they're doing. Getting below 1,000 calories is virtually impossible for most patients on a day-to-day basis," she said. "I think it's a very hard thing to adhere to."
Anyone who might want to try this kind of a diet should probably do it under medical supervision, she said, to ensure that the diet was well-balanced and had enough important nutrients.
Taylor was more skeptical that people might need medical supervision of their diets. "How much a person eats is their business. As doctors we only advise," he said. "Relative fasting is safe, unlike eating which is hazardous for most of us in affluent countries."
"Certainly, a person with diabetes should consult their doctor before starting, mainly because tablets for diabetes and blood pressure should be stopped, and this should not be done without medical advice."
Finally, though the study included people who had Type 2 diabetes for up to six years, people who have had the disease for longer may not always see the same effects, Shah noted. "[The results] should be applied with caution."
The researchers are planning to continue to follow the participants for at least four years to see how they do.
This article has been updated with quotes from Dr. Sona Shah and Dr. Roy Taylor.
source By https://www.newsweek.com/type-2-diabetes-reversed-weight-loss-how-super-low-calorie-diet-may-cure-735604