Before and after photos documenting one woman's weight loss journey have gone viral online.
The photos were posted in Reddit's "Made Me Smile" forum by u/Dittoditto1, who wrote: "My weight loss this year. Feeling pretty good!" The post has garnered 37,000 upvotes and hundreds of comments from stunned Redditors congratulating her success. You can view them here.
The first photo, presumably taken in January, shows u/Dittoditto1 at 345 pounds. The second and third show u/Dittoditto1 at her current weight—265 pounds.
In response to a commenter who asked u/Dittoditto1 what motivated her to lose weight, she wrote: "Honest answer. I knew it was getting bad but ignored it until one day I found an old tablet (about 4 years) I used to draw on. I didn't remember the password but fortunately, it had facial recognition…That is until I tried to use it and the device said it didn't recognize me and locked me out. It was the gut punch I needed."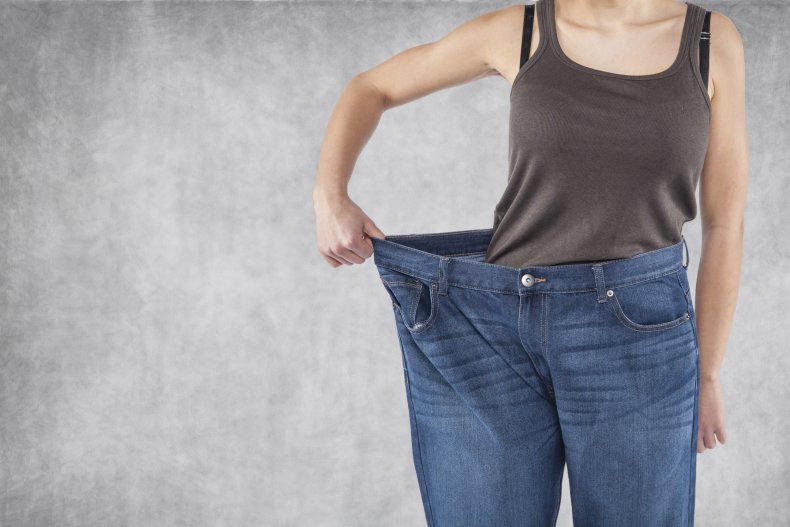 To achieve her goals, u/Dittoditto1 told Newsweek she followed the keto diet and did a lot of cardio.
"I did the keto diet staying under 20 net carbs and 50 total carbs [a day]. I did almost exclusively cardio for this—the elliptical and treadmill five days a week for about an hour, sometimes a bit more depending on the media I was consuming while working out," she explained.
What's a Keto Diet?
The ketogenic (keto) diet is a low-carb, high-fat diet.
"It involves drastically reducing carbohydrate intake and replacing it with fat. This reduction in carbs puts your body into a metabolic state called ketosis," Healthline explained. "When this happens, your body becomes incredibly efficient at burning fat for energy. It also turns fat into ketones in the liver, which can supply energy for the brain."
According to some health experts, the diet has been shown to effectively reduce and prevent seizures, elicit weight loss, and could improve "insulin sensitivity." That being said, there are some negative side effects to the diet as well, including constipation, high cholesterol and flu-like symptoms, among other things.
"The keto diet is a fad diet, meaning it works until it doesn't. You may experience rapid weight loss, but it's not a healthy solution towards attaining weight loss," Roxana Ehsani, a spokesperson for the Academy of Nutrition and Dietetics, previously told Newsweek. "If you're looking for a healthy way to lose weight, instead work with a registered dietitian nutritionist (RDN)."
Despite all the potential negative side effects, however, u/Dittoditto1 said she's felt great since losing weight via the diet.
"I am more active, joined an adult sports league, get better sleep, got a boyfriend, and just overall a lot happier," she wrote in the comments section of her post.
Redditor Reactions: 'Killing It!'
Many commenters were blown away by u/Dittoditto1's results and congratulated her on all the hard work. Some even said they were shocked to learn she weighs 265 pounds.
"Killing it!" u/Musicman1810 exclaimed. "I hope you feel great! You look great!"
"You look incredible. You should be so proud of yourself!" u/AshetoAshes7 commented.
"I think she meant to put 165," u/No_Joke_9079 said.
u/OkConcentrateNow wrote: "Girl you must be really tall considering how well you wear 265 pounds."
u/TrMayerJr added: "No f**king way you are 265…I mean congrats, but you look way less than 265."
Of course, u/Dittoditto1 didn't make any mistakes when weighing herself—she is, in fact, 265 pounds. When speaking to Newsweek about the skeptics, she said: "They don't believe that I started out at 345 and am currently 265 because of my body composition. Someone pointed out that the media has such a skewed view of how much women actually weigh and I'm inclined to agree."
As it turns out, u/Dittoditto1 isn't the first person to make headlines for their stunning weight loss transformation.
Tuesday, a Missouri man made headlines for revealing how he lost 270 pounds in just one year.
06/29/22, 4:52 p.m. ET: This article has been updated to include comments from u/Dittoditto1.
source By https://www.newsweek.com/womans-before-after-weight-loss-photos-leave-internet-stunned-1720378