During an interview with Tucker Carlson and Fox News, Kanye West pointed to Lizzo's weight and abortion as examples of the "genocide of the Black race."
The rapper and fashion designer has been making headlines over the past week for his Instagram statements, calling out celebrities, members of the Kardashian family and fashion writer Gabriella Karefa-Johnson who critiqued Ye's work.
SUBSCRIBE TO THE PARTING SHOT WITH H. ALAN SCOTT
ON APPLE PODCASTS OR SPOTIFY
Continuing to speak his mind, West moved platforms from social media to television where he covered a range of topics with political commentator Carlson.
He was asked about his recent use of the "White Lives Matter" T-shirt, his ex-wife Kim Kardashian, and even his friendship with Elon Musk. Two separate topics Ye discussed, abortion and Lizzo's weight, he suggested were examples of "Black death" and "genocide."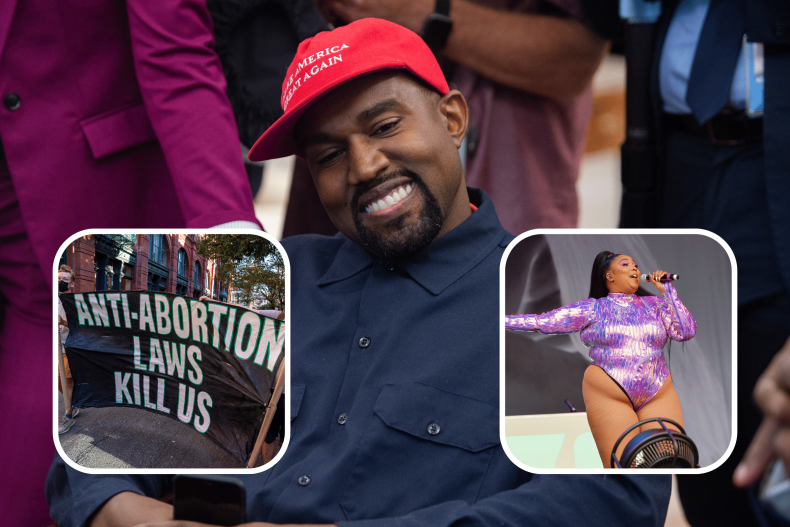 "It represents life. I'm pro-life," West said when asked by Carlson why he's wearing a lanyard with a picture of an ultrasound on it. "I don't care about people's responses. I care about the fact that there's more Black babies being aborted than born in New York City at this point. That 50 percent of Black death in America is abortion."
It's unclear where Ye got his statistics from, but Newsweek couldn't find a study to back up his claim. According to a 2011 Abortion Surveillance Report issued by the Centers for Disease Control and Prevention, there were 474 abortions per 1,000 live births in the Black community.
West went on to discuss the narrative surrounding his "good friend" Lizzo's weight, and how he believes there are systems in place to stop her from losing weight.
"Now let's talk about Gabby and my good friend Lizzo. Lizzo works with my trainer, a friend of mine, Harley Pasternak. When Lizzo loses 10 pounds and announces it, the bots […] on Instagram, they attack her for losing weight, because the media wants to put out a perception that being overweight is the new goal, when it's actually unhealthy," West said.
"Let's get aside from the fact whether it's fashion and Vogue, which it's not, or if someone thinks it's attractive, to each his own. It's actually clinically unhealthy. For people to promote that, it's demonic."
Carlson then quizzed West on why "they" would want to promote unhealthiness. West replied: "It's a genocide of the Black race. They want to kill us in any way they can."
West's comments have caused a huge reaction online, with thousands of people discussing his comments on Twitter, Instagram, Reddit and YouTube.
Since his interview on Tucker Carlson Tonight aired, West has gone on a deleting spree on Instagram of the majority of his recent controversial posts. He frequently deletes posts from this account, and it often sits empty for months at a time.
Newsweek reached out to West's representatives for further comment, and to Lizzo's representatives for her response to West's claims.
source By https://www.newsweek.com/kanye-west-abortion-lizzo-weight-genocide-black-race-fox-news-tucker-carlson-1749774